---
Cucusonic
is a collective of biological scientists, anthropologists and musicians that record and use bats', birds' and frogs' sound signals to monitor biodiversity and to make music.
This project is the
winner
for
Outstanding International Engagement in The Making a Difference Awards
at the
University of Manchester
.
I coordinate activities of the collective. Working with
Matthew Dear
and
Fer Isella
, I produced '
The Sound of Paradise
', the first single of
Cucusonic
, a self-titled album which also features artists like
Brian Eno
,
Martyn Ware
,
Iggor Cavalera
,
Kate Simko
and
Mexican Institute of Sound
and which was released with
The Vinyl Factory
.
The music album
was inspired by the sounds and frequencies of the Colombian Neotropical forests, to raise awareness of their biodiversity to national and international audiences.
In Cucusonic we are interested in identifying how the multiple sonic registers of animal sound can be harnessed to bring different groups of people together to work towards a common purpose, which is the exploration of the transformative potential of biodiversity. I am currently acting as coordinator of this multidisciplinary network.
We explore how such signals can promote change in people to appreciate bats and frogs as living beings with extraordinary sonic capabilities, rather than simply seeing them as despised or dangerous animals.
The idea behind
Cucusonic
is to investigate the capacities of recording, sharing and listening to natural soundscapes to value more-than-human entanglements. We want people to acknowledge the interdependence and benefit humans receive from nature. For example, bats disperse seeds, pollinate plants and control pests.
Frogs and toads not only constitute a very significant level in the food chain as primary and secondary consumers (feeding on insects), but they also have an ecological function as a food source for higher trophic levels, because birds, snakes or lizards feed on other small vertebrates like frogs and toads.
This project is supported by the UK's Global Challenges Research Fund,
UK charity In Place of War
and the
Granada Centre for Visual Anthropology
at the
University of Manchester
.
Kone Foundation also supports my work in
Cucusonic
, thanks to the artist residency at Saari Residence.
This project has been featured in Colombian colombian newspaper
El Espectador
, in the public engagement initiative (via Twitter)
#ElDesparche
, and in
BIME Pro Bogotá
.
I also talked about the project during the public lecture
Cucosonic: soundscapes, music, frogs and bats
, at the
Instituto Tecnológico Metropolitano (ITM)
.
---

The work of

Cucusonic

has just been featured at the

BBC Wildlife Magazine

. Check out the article on #ecoacoustics by Andrew Griffiths: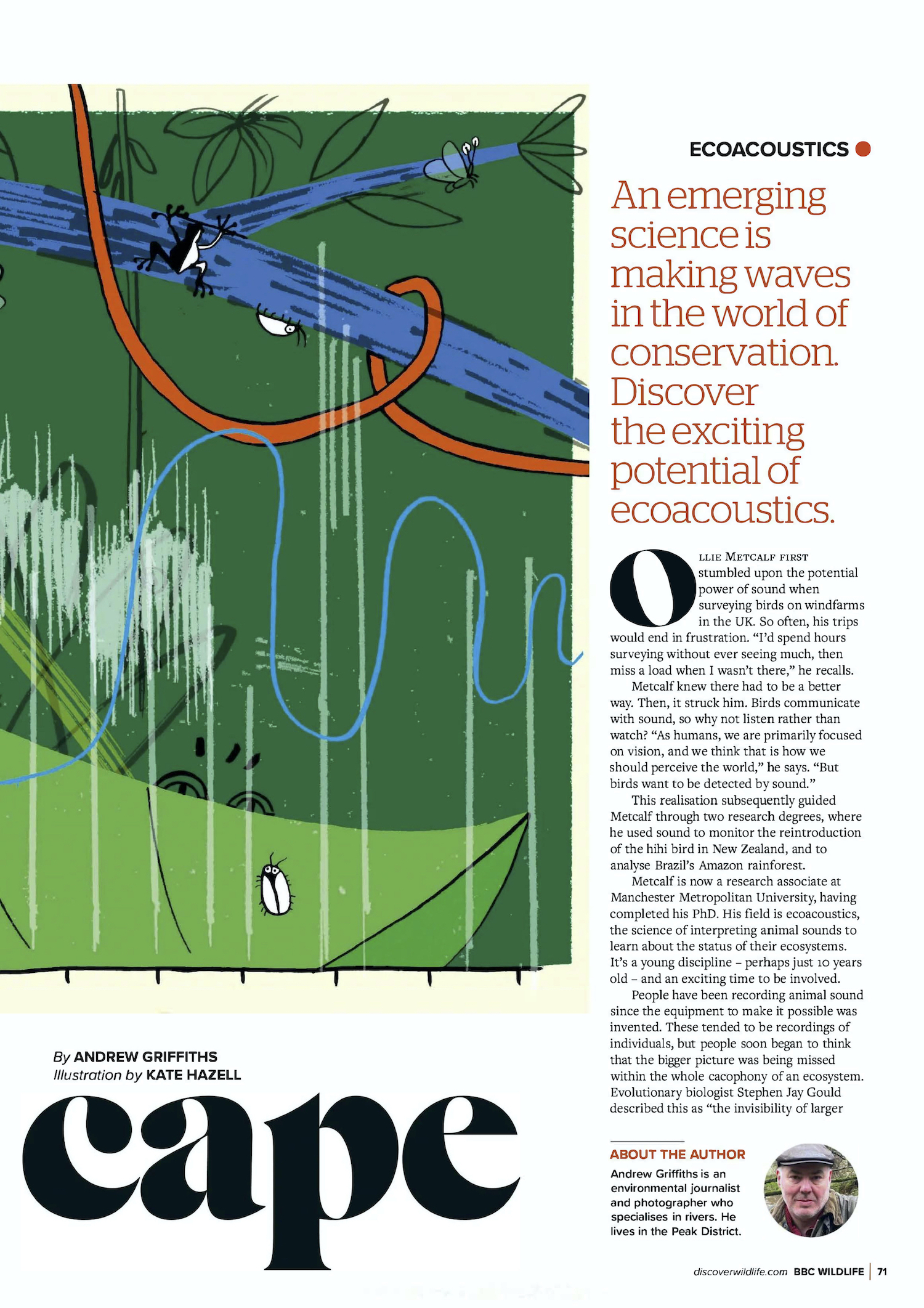 ---